To view the class schedule for classes offered by Clearlight, please visit the registration page.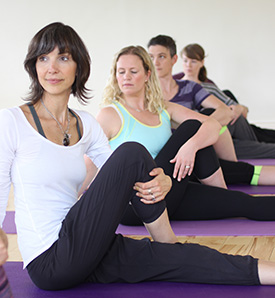 Clearlight's Mindful Yoga offers a mindful approach to asanas (postures), practical core-strengthening work, balancing breathing exercises, and relaxation with meditation, all to cultivate the many benefits of yoga - including strength, flexibility, calm and overall well-being.

These classes are a synthesis of Kripalu Hatha Yoga, Pilates-Inspired Bodywork, along with Nondual Wisdom teachings as embodied by BodySensing and Yoga Nidra meditation.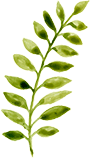 Mindful Yoga supports a wide variety of experiences… some attend to improve the health of their bodies, some to reduce the stress in their lives, some to nourish the spiritual aspect of their life's journey... and some return to deepen the exploration of wellbeing that emerges from practice.

Each of the Mindful Yoga practices offers a unique theme and focus, while the movements consistently build strength, increase flexibility and free tension. Clearlight's teaching of the physical practices balances an emphasis on core stability training with safe alignment, which encourages students to move more gently or more intensely as they need.

Everyone's welcome, the classes are friendly and genuinely non-competitive. The group shares the understanding that the movements are meant to serve the needs of the body, and that every individual is different in their own unique way.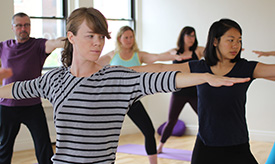 Mindful Yoga is far-reaching, ranging from the liberation of deeply held tensions to the discovery of how the practice can bring a greater sense of wholeness and balance to one's life.

Mindfulness practice also transforms our lives off the mat – providing us with greater ease and a connection to an unwavering sense of well-being in the midst of the turbulence of daily life.

The classes invoke a celebration of life – its beauty and its challenges – and provide an opportunity to dive more deeply into the preciousness revealed in the present moment through the experience of movement in the body and meditative inquiry.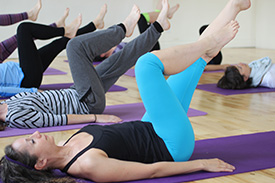 Because the community and continuity of the group is so important, registration is organized into 6-week sessions to allow for a commitment to emerge between the students and teacher, and for a mentoring that deepens experience, practice and clarifies the teachings' direct relevance to one's own personal life.
Clearlight's Mindful Yoga is a culmination of her 25 years of personal practice and study, and her 17 years of teaching in Montreal. Her unique approach is a reflection of her studies and experience as a certified Kripalu Yoga Teacher and Pregnancy Yoga Teacher (1999), her specialization in rehabilitative yoga therapy (2000-present), her depth of understanding attained through serious, long term studies of Nondual Wisdom teachings under the guidance and mentorship of Richard Miller and Joan Ruvinsky (2004 – present), her experience as a certified iRest Yoga Nidra Teacher (2008 - present) and her continued work as a Mentor, Senior Teacher and founding member of the Integrative Restoration Institute (IRI) in California.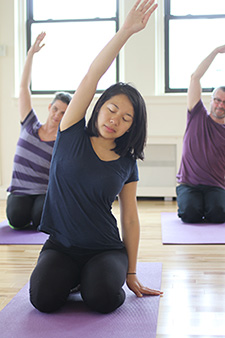 The current class calendar is located on the classes page, and information about the schedule and signing up is on the registration page.

If, after signing up and attending the first class of the session, you feel the practice is not the right fit for you, you would have an opportunity to change your mind and opt out of the session.

Recent reflections from some of Clearlight's students:

"With Clearlight's teaching, I have learned to develop a yoga practice that I can rely on to bring me back to a state of equanimity in what is a very busy life! Her classes are truly a place of non-judgement, sincerity and encouragement. Her long experience and mastery of teaching yoga are evident. Although I maintain my health, strength and flexibility with yoga, her classes are not about comparing or achieving - they really feel like an opportunity to reconnect to my physical, emotional and mental experiences from moment to moment." - Jen P.

"I have been returning to my mat for ten years now and I always feel the same pleasure and wellbeing. Clearlight's voice, guidelines and moves are relaxing, comforting and fortifying. Yoga is a way to escape from the busy life of a working mum of three kids; a time for me to get the energy I need for the rest of the week." - Corinne B.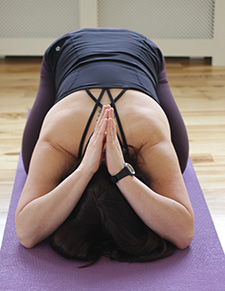 " I just wanted to let you know how much I've appreciated your amazing classes over the past few years - the calm, balanced energy you share, the generosity of your spirit, the inspiration and guidance your words offer - all these contribute to making each class a real place of respite in this crazy world we live in! It is like a good friend of mine said, 'An hour with Clearlight makes the world a better place.'" -Rebecca

"I want to thank you so much for teaching me how to love yoga, myself and others!" - Shelley

"Clearlight has a remarkable ability in her teachings to speak directly to the source of whatever it was that was bothering me in my life before I sat down on the mat, and tonight was a perfect example of that. Both the chosen chant and the opening meditation on yoga as a gradual, ongoing process of uncovering one's true self resonated profoundly, and the bad headache (and bad attitude) I brought with me to class was so easily shrugged off.

"This experience of openness, or awareness, or synchronicity acts as a powerful affirmation for me of the yoga work that I'm doing both on and off the mat. It completely turned my evening around and, more importantly, gave me the feeling of turning a corner in my own yoga practice. Most importantly, it speaks to her abilities and gifts as a teacher, and I'd like to express gratitude to her for sharing those gifts, and for teaching such a profound and integrated and inspired practice." – Emily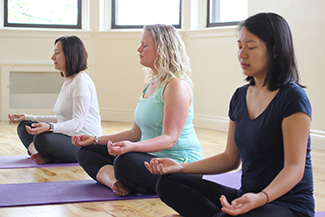 "As a lawyer in my 40s, and single mom of a young child, my yoga practice with Clearlight since 2010 has been the beacon of my focus on what really matters. So many incredible things have manifested in my life, simply by being part of the transformative space Clearlight provides her students with during every class. Her teachings are as much part of my daily life as breathing." - Sophie A.

"I came to yoga in middle age. I have found that Clearlight's classes have helped me feel more balanced in life. A few years ago while going through some medical issues and tests I drew upon many of the things we had discussed and practiced in class especially the yogic breathing we had learned. Yoga helps helps a lot with balance issues. To me there are only positives to my regular practice!" - Kathleen

"I am really enjoying the sessions and in addition to the stretching/bending/twisting and breathing, I am finding the readings and thoughts that Clearlight shares with us thought provoking. They've really given me some things to think about regarding my not needing to own how other people feel or deal with life but to accept it and realize that it doesn't need to impact on my own emotions or my approach to life. Thank you." - Amy




Schedule & Registration

For schedule and location information for Mindful yoga classes, please visit the classes page.

For complete information including online registration, please visit our registration page.

For information about upcoming Yoga Nidra meditation and relaxation classes, please visit the yoga nidra page.





W e b s i t e U p d a t e s a n d N e w C l a s s e s






Clearlight Gerald, MA, C-IAYT, E-RYT500, RPYT, founder and director of Yogaspace Studio, is a professional level certified Kripalu and Prenatal Yoga Teacher and an IAYT-certified Yoga Therapist. Clearlight currently teaches classes and workshops at Yogaspace in Mindful Yoga, iRest Yoga Nidra, Pregnancy Yoga, Childbirth Preparation for Couples and Mom & Baby Yoga.

Clearlight started practicing yoga in 1991, and began teaching in 1999 after she completed her certification as a Kripalu Yoga Teacher and Pregnancy Yoga Teacher. Today, Clearlight is a student of nondual wisdom teachings as taught by her teachers and mentors Richard Miller and Joan Ruvinsky. Clearlight actively pursues her love of yoga in her studies, personal practice, teaching and family life.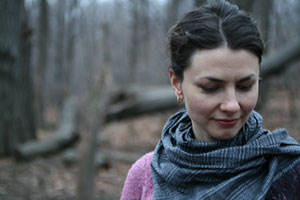 During her first years of teaching, Clearlight studied and practiced with many wonderful teachers from around the world, including Donna Farhi, Gary Kraftsow, Anodea Judith, and Krishna Das. It was at this time she gained extensive experience and insight into the practice and application of yogic breathing and asana, physical and energetic anatomy, and the ancient teachings of yoga.

During these formative years she taught at different locations throughout Montreal, including Concordia University, Marianopolis College and the Montreal Athletic Association, and worked part-time as a program assistant at the Kripalu Center for Yoga and Health in Massachusetts. In 2002, Clearlight created Yogaspace Studio in Montreal, where she now teaches exclusively.

In 2004 Clearlight met Richard Miller and Joan Ruvinsky, senior teachers of the pathless path of nondual teachings, both students themselves of Jean Klein. During her first interactions with Richard and Joan she felt that she was "coming home to truth" - and in that moment knew she had found the teachings that she was deeply compelled to follow. Since then, Clearlight has been deeply immersed with Richard and Joan in studies that are dedicated to these teachings.

Clearlight completed the Yoga Nidra (iRest) Teacher Training with Richard Miller in 2009, and is now a mentor for others pursuing their certification as Yoga Nidra teachers at the Integrative Restoration Institute (IRI). (IRI is a non profit organization dedicated to the path of self-inquiry and awakening through the teachings of nondual wisdom.) The teaching of yoga nidra is a beautiful method of self-inquiry and meditation and informs every level of Clearlight's teaching.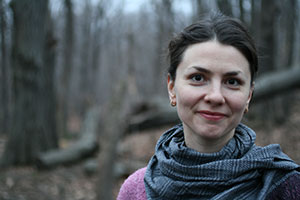 Concurrently, Clearlight continues to deepen her focus and skill as a specialist in teaching prenatal yoga and postnatal yoga, a path she chose after feeling profoundly inspired, well before her teacher training, to bring yoga to pregnant and new mothers. As a result of following her heart, she has had the privilege of teaching several thousand expectant and new mothers in her pregnancy yoga, and in her mom and baby yoga classes.

She has been witness to the dramatic beneficial effects of yoga experienced by women during this time of transition, and she continues to offer an inspiring context in which women and couples can connect more deeply to the wisdom, balance, and joyfulness that they bring with them into childbirth and parenthood. (Make sure to read the wonderful birth stories by moms who were in Clearlight's classes.)

Clearlight's dynamic teaching style reflects the passion she has for her personal practice and her love of inquiry. Her teaching of the physical practice of postures balances both an emphasis on core stability techniques and safe alignment with the importance of not only liberating deeply held tensions, but of discovering how the practice of yoga can bring a greater sense of wholeness and balance to every aspect of one's life.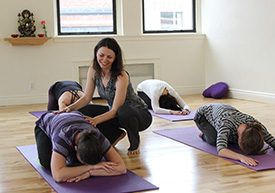 Other aspects of her teaching include yogic breathing, chanting, the sharing of inspiring music and poetry, discussion based on ancient texts and meditation practice (including yoga nidra) - all led with the understanding that yoga is a practice not of acquiring, but of recognizing the wholeness of our True Nature.

Finally, since the question does come up so frequently, it must be shared that Clearlight was named Clearlight at birth by her mom and dad, and that she feels a deep gratitude for this beautiful gift from her parents!