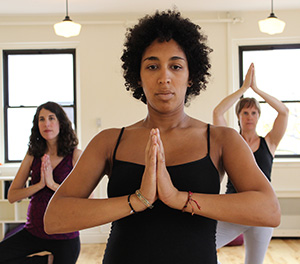 Classes are now being offered in the following formats:

• In-Person, Studio classes
• Live, Online weeky practices
• Recorded, On-Demand classes

• autumn 2023 class schedule

• yoga styles & class descriptions




2023 In-Studio Classes & Workshops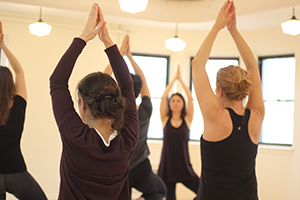 This Autumn 2023, join the in-studio six class series of Mindful Yoga, and/or the monthly Yoga Nidra meditation practices – enjoy the spacious, new studio location on Monkland. Read more about the current in-studio classes here.


2023 Live, Online Classes (and On-Demand Practices!)

Mindful Yoga on Mondays 7:45 pm and Thursdays 12 noon (plus a library of practices)
Pregnancy Yoga and Mama Baby Yoga: Hundreds of on-demand practices, anytime.

Join these classes anytime with unlimited access to ALL classes, gatherings and practice recordings, with a monthly membership of $39 (taxes in). Explore the live-stream and recorded practices with the current 10-day free trial. (Join/cancel anytime)

This includes unlimited access to Mindful Yoga, Yoga Nidra, Pregnancy Yoga and Mama & Baby Yoga. Practice from the comfort of your own home live in community, or anytime on your own.

Please contact Clearlight anytime if you have any questions.






In-Studio Classes: Advance registration is necessary. Please visit the in-studio class page for more information.

Live, Online Practices (plus on-demand library): Access unlimited classes with a monthly membership of $39 (taxes in). When you sign up you will have a 10 day free trial to access any live-stream and recorded practices to be sure this is the right fit for you. The monthly membership is intended to simplify, not to lock you in, therefore you can easily cancel your membership anytime from your end.





Classes currently gather online as live-streamed gatherings. Recordings of practices are also available. Please join the newsletter to be advised of when registration begins for the classes.

mindful yoga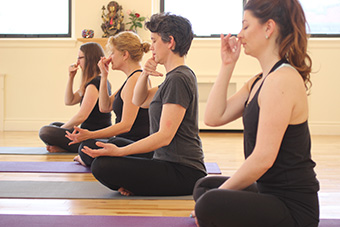 Clearlight's Mindful Yoga classes offer a mindful approach to asanas (postures), practical core-strengthening work, balancing breathing exercises, and relaxation with meditation, all to cultivate the many benefits of yoga - including strength, flexibility, calm and overall well-being.

These day and evening classes are a synthesis of Kripalu Hatha Yoga, Pilates-Inspired Bodywork, along with Nondual Wisdom teachings as embodied by BodySensing and Yoga Nidra meditation.

Mindful Yoga supports a wide variety of experiences… some attend to improve the health of their bodies, some to reduce the stress in their lives, some to nourish the spiritual aspect of their life's journey... and some are drawn to deepen the exploration of Wellbeing that emerges from practice.

[visit our mindful yoga page to learn more...]

pregnancy yoga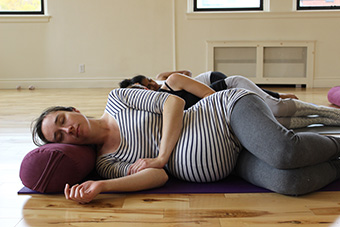 Pregnancy yoga provides a safe and supportive context for pregnant women to come together – sharing in a practice designed to promote optimal health and wellness for both mom and growing baby.

These yoga classes are specifically designed to support a more comfortable and healthy pregnancy, and to prepare for labour with special practices of movement, breathing and meditative techniques.

The focus of the classes is three-fold: movements for ease and endurance during pregnancy; breathing to relax and focus the body-mind; and essential techniques to help stay focused, empowered, and flexible during labour.

[visit our pregnancy yoga page to learn more...]

couples workshop: preparing for childbirth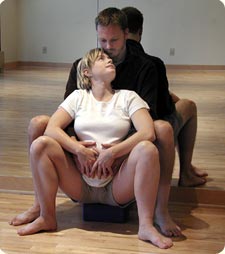 The Couples Workshop, Preparing for Childbirth with Movement & Breath is an opportunity for expectant parents to prepare for labour and childbirth together. During the afternoon, couples learn and practice movements, breathing and relaxation in order to cultivate a greater understanding, enjoyment and confidence in pregnancy, labour and childbirth.

Couples will learn and practice together:
• breathing techniques for labour and delivery
• birthing positions to facilitate labour and childbirth
• personal coping practices to meet the challenges of labour
• specific ways partners can best support moms in labour and childbirth
• relaxation together

[visit our couples workshop page to learn more...]

mom & baby yoga
Open to babies 2 months to 8 months or crawling.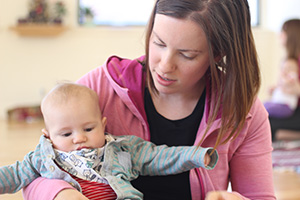 Mom and Baby yoga classes provide an opportunity for you to regain strength and flexibility, to bond with your baby in an enjoyable activity.

The focus of the class is on movements and breathing specifically tailored for new moms. The babies benefit from the bonding time with mom, baby massages and song!

Special attention is placed on developing core strength and stability – involving a particular emphasis on strengthening the back, abdomen and pelvic floor, as well as relieving tension in areas such as the neck, shoulders and back.

[visit our mom & baby yoga page to learn more...]

yoga nidra relaxation & meditation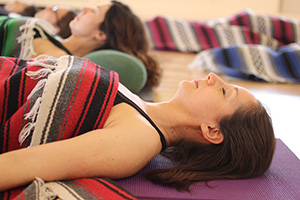 Participants are guided into the deepest levels of relaxation and meditation while remaining alert and aware. Practiced to deeply relax and eliminate stress; to promote healing and to rediscover a greater sense of wholeness and balance that is naturally ours. Everyone can practice Yoga Nidra.

[visit our yoga nidra page to learn more...]

private yoga therapy sessions
These personalized sessions are designed to meet individual needs. Sessions are offered in therapeutic yoga, iRest Yoga Nidra meditation and in private childbirth preparation.

[visit our private session page to learn more...]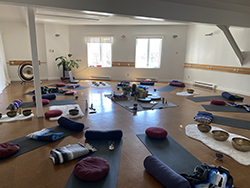 In-studio classes and trainings are held at Morpho Bleu in NDG/Westmount, 4260 av Girouard at the corner of Monkland, near metro Villa Maria.

Enjoy unlimited classes by joining our live and recorded online practices. You'll find live, online Mindful Yoga and Yoga Nidra, and a full collection of Pregnancy Yoga and Mama & Baby Yoga practices!

Learn more about accessing the live, online practices on the membership page. Learn more about the in-studio practices here.

Please visit the contact page for more information.






Clearlight Gerald, MA, C-IAYT, E-RYT500, RPYT, founder and director of Yogaspace Studio,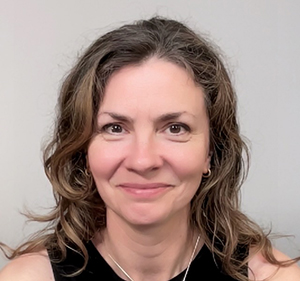 is a leading expert in the field of mindfulness-based yoga and meditation for pregnancy, for childbirth and for motherhood, and has guided thousands of women in all stages of their lives for over 20 years.

Based in Montreal, she is a certified yoga therapist (C-IAYT) and a professional-level yoga teacher (E-RYT500, RPYT), with students locally and internationally. Clearlight is a founding member of the iRest Institute in California, where she holds credentials as a certified iRest meditation teacher and is an iRest Mentor, Trainer and Certification Supervisor for the teacher training program.

Clearlight shares with her students the teachings and transformative understandings that have emerged from close mentorship with her teachers Richard Miller and Joan Ruvinsky. She combines her decades of immersive study and engagement in yogic wisdom teachings with a grounded and skillful application of physical practices. Her background includes many years of professional tutelage in therapeutic yoga and rehabilitation exercise, and has had the privilege of attending many births – all supported by a deep understanding of the complex issues relevant to women's experiences gained in her life experience (including as a mother of twins) and in her intensive graduate studies.

Clearlight passionately shares practices and strategies that transform, enlighten, and empower women to navigate life's joys and challenges from a place of grace, wisdom and confidence… and offers ways to reclaim a unwavering sense of wellbeing amidst the ups and downs of life's journeys.

Finally, since the question does come up so frequently, it must be shared that Clearlight was named Clearlight at birth by her mom and dad, and that she feels a deep gratitude for this beautiful gift from her parents!