Welcome! I am happy to announce that the new website featuring a live-streaming class platform is now live. It will no longer be necessary to register for classes, you can now enjoy unlimited access to ALL classes, live-streamed and recorded (and a growing library of practices) with a monthly membership. Please visit and explore the new site, classes begin on September 21st: www.clearlight.ca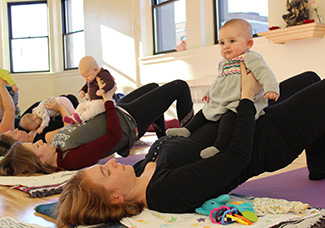 What is Mom & Baby Yoga?
You did it! You have nurtured your baby through pregnancy and have given birth to a beautiful baby – congratulations! Mom & baby yoga classes provide an opportunity for you to regain strength and flexibility, to bond with your baby in an enjoyable activity and to make friends with other moms.

Visit the Mom and Baby yoga page on the new site.

The focus of the class is on movements and breathing specifically tailored for new moms. The babies benefit from the bonding time with mom, baby massages and the stimulating environment of new baby friends!

Special attention is placed on developing core strength and stability – involving a particular emphasis on strengthening the back, abdomen and pelvic floor, as well as relieving tension in areas such as the neck, shoulders and back.

Previous yoga experience is not necessary to fully benefit from the classes, and women who have practiced yoga before will find these classes are a great way to transition back to their pre-pregnancy practice.

What do I do with my baby during class?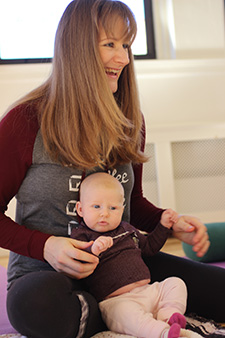 Throughout the class, you will have the option to either involve your baby in the movements, to hold him or her, or to have your baby close to you on your blanket. Sometimes babies sleep all class, other times they may want to breastfeed or bottle feed, and other times they are happy to see and hear the other babies around them. Fussing and crying is also totally normal, the babies are welcomed just as they are, and truly are the bosses in this class!

You will also have the opportunity to learn and practice short baby massages and baby yoga routines that you can then bring home with you (- including one for 'gas relief'!).

What is the class like?
Each mom and baby yoga class includes both flowing yoga movements and slow methodical exercises for strength and awareness. The classes are designed specifically to accommodate the effects of your recent pregnancy, and take into account reduced joint stability and core strength.

Clearlight's instruction is known for its emphasis on safety and individualized attention, everyone is encouraged to move at their own pace, either more gently or more intensively. In this class you will have an opportunity for one-on-one consultation if the need arises.

The class is very informal and lively, and there is absolutely no pressure or expectation for your baby to "behave" in a certain way! Part of the yoga practice is truly welcoming the babies just as they are, learning to cultivate awareness and breathing instead of tension and worry.

Throughout the class, moms will stop to feed or soothe their babies and will then rejoin the movements when it is possible and comfortable to do so.


Sometimes during class moms will chat, as Clearlight moves around the room offering individual attention to each mom and baby.

Friends and Community
It is so important to connect with other moms – to share in the journey of motherhood. It is easy to feel alone when you are at home, but in fact you are not - there is a whole community of mothers in Montreal experiencing the same kinds of joys and challenges that you are, who are just waiting to connect with other moms. Therefore, there is ample time provided before and after each class to linger, to meet old friends and make new ones, and to share the experiences and insights of raising a little one!

Time and time again women have been in touch years later and have shared that they made lasting friendships with other moms they met in this class.

What will Mom & Baby Yoga do for me?
Mom and baby yoga classes at Yogaspace have many advantages and benefits, including:
increasing over-all endurance, strength and well being
reducing back tension and discomfort and improving posture
building core strength and stability (including abdominals)
learning yoga movements you can practice at home
reducing anxiety and stress
adopting coping techniques for when you feel overwhelmed
making new friends with other moms and babies
joining the network and community of Montreal families
When can I start and how long can I continue?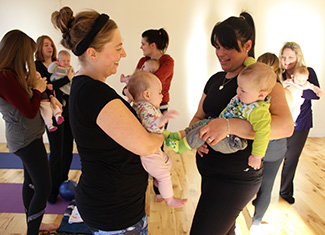 It is a good idea to wait for about 6 - 8 weeks after the delivery of your baby before attending class. If you had a caesarian delivery this time should be extended to about 8-10 weeks, or until you receive the go-ahead from your doctor.

There is absolutely no problem with joining the class after the session has begun (space permitting), the movements are simple and it is easy to catch on.

Who is teaching the Mom & Baby Yoga classes?
Clearlight Gerald (MA, E-RYT, RPYT) has special training and certification in pregnancy yoga (completed at the Kripalu Center in 1999), and she has been teaching yoga for pregnancy, childbirth preparation and yoga for mom and babies for over 15 years. During this time Clearlight has had the privilege of teaching several thousand expectant and new mothers in both her pregnancy yoga and mom and baby yoga classes. Read more about Clearlight below.





Schedule & Registration

For class schedules and registration information for Clearlight's Mom & Baby Yoga classes, please visit our rates & registration page.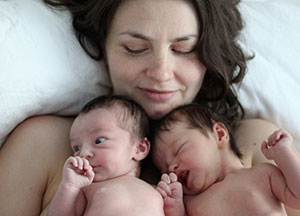 Clearlight Gerald, MA, ERYT500, RPYT, founder and director of Yogaspace Studio, is a professional level certified Kripalu and Prenatal Yoga Teacher. Clearlight currently teaches classes and workshops at Yogaspace in Kripalu Yoga, Pregnancy Yoga, Childbirth Preparation for Couples and Mom & Baby Yoga.

Clearlight began practicing yoga in 1991, and started teaching in 1999 after she completed her certification as a Kripalu Yoga Teacher and Pregnancy Yoga Teacher.

With over a decade of experience, Clearlight brings skill and passion to her role as a specialist in teaching prenatal yoga and postnatal yoga, a path she chose after feeling profoundly inspired in the 1990s to bring yoga to pregnant and new mothers. As a result of following her heart, she has had the privilege of teaching several thousand expectant and new mothers in her pregnancy yoga, and in her mom and baby yoga classes.

She has been witness to the dramatic beneficial effects of yoga in her own life as a mother of two, and as experienced by so many other women during this time of transition. She continues to offer an inspiring context in which women can connect more deeply to the wisdom, balance, and joyfulness that they bring with them into parenthood.

Clearlight's dynamic teaching style reflects the passion she has for her personal practice and her love of sharing yoga with others. Her yoga teaching balances an emphasis on safety and strength with the importance of discovering how the practice of yoga can bring a greater sense of wholeness and balance to every aspect of one's life.

Finally, since the question does come up so frequently, it must be shared that Clearlight was named Clearlight at birth by her mom and dad, and that she feels a deep gratitude for this beautiful gift from her parents!

Make sure to read the wonderful birth stories by moms who were in Clearlight's classes.






W e b s i t e U p d a t e s a n d N e w C l a s s e s