Pregnancy yoga classes will help you meet the challenges of pregnancy and birth with strength, confidence and calm, and are open to women in their second and third trimesters.

Join the weekly live-streaming, interactive 2022 Pregnancy Yoga classes. Thursdays at 10:30 am (gathering at 10:00 am for optional Café).

Online article — Barrie Risman recently interviewed Clearlight and asked her which yoga practices are most beneficial in pregnancy, which should be avoided, and more... Read the interview here.




In the livestreaming program Couples Workshop: Preparing for Childbirth with Movement & Breath, expectant couples learn and practice breathing and movement specifically for labour and childbirth to encourage a supportive and positive childbirth experience.

Access the recorded workshop until the next live workshop is offered.

Visit Yogaspace's very own collection of birth stories written by women who have taken our prenatal yoga classes, and who have generously shared the details of their unique labours and delivery experiences with us.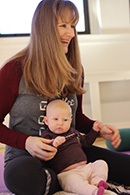 Mama and Baby yoga provides an opportunity to regain core strength and flexibility, to practice baby massage, and to meet other moms and babies! Fun, informal, the babies are the 'bosses' in this class!

NEW Livestream Mama & Baby Yoga class is now gathering on Tuesdays at 10:30 am... come join the practices and our community! Don't miss the special postpartum practices to transition back into movement safely, effectively and confidently.

The Yogaspace prenatal & postnatal resources page has a selective listing of Montreal groups and health resources for expectant and new moms.




Read our growing collection of fascinating, gripping and beautiful birth stories written by Montreal mothers and fathers.

These stories illustrate how each labour and childbirth is truly unique – and also provide a forum in which we learn from each other.




Specialized private sessions in fertility yoga to support your overall wellbeing, to reduce stress and to help create favorable circumstances to invite pregnancy with or without reproductive assistance.

Fertility Yoga is offered as a series of private meetings with each session being tailored to your own individual needs and circumstances. These sessions include dialogue, breathing exercises, gentle yoga (accessible and adaptable to all bodies), and guided meditation. Your unique needs are first assessed in order to provide you with specific, personalized yoga and meditation practices that will vary each week, depending where you are in your cycle. In addition, each session always includes practices to directly improve your overall felt sense of wellbeing.




All classes are currently being held online as live, interactive gatherings. You can read more and sign up on the clearlight.ca website.

When Yogaspace classes are held in-person, they are held at the studio location inside of the Queen Elizabeth Health Complex in Montreal (NDG/Westmount) near metro Vendome.

Pregnancy yoga and childbirth classes, Yoga with Baby, Mindful Yoga and Yoga Nidra classes - all with Clearlight - are all currently offered as live-streaming classes.




Clearlight's Mindful Yoga classes offer a mindful approach to asanas (postures), practical core-strengthening work, balancing breathing exercises, and relaxation with meditation, all to cultivate the many benefits of yoga - including strength, flexibility, calm and overall well-being.

These classes are a synthesis of Kripalu Hatha Yoga, Pilates-Inspired Bodywork, and Nondual Wisdom teachings as embodied by BodySensing and Yoga Nidra meditation.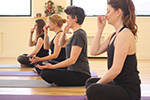 Join the 2022 Mindful Yoga weekly classes anytime, they are live-streamed and the recording of each class is always available. We currently meet Mondays at 7:45 pm and Thursdays at 12 noon.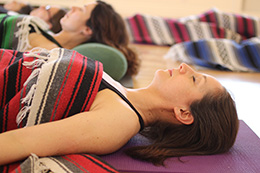 iRest Yoga Nidra is an accessible form of meditation for those seeking deep relaxation and wellbeing, and an effective way to cope with everyday stress.

The practice of Yoga Nidra and the Nondual wisdom teachings inform and inspire Clearlight's teachings, and all of the classes she offers at Yogaspace.

Join us for iRest Yoga Nidra, we meet on the first Sunday of each month for orientation, practice, workshops and discussion and to share in a new iRest Yoga Nidra meditation. Sundays, October 17 & November 7, 2021

Join us for live, monthly Yoga Nidra gatherings and receive unlimited access to the growing library of Yoga Nidra practices.




You can view the class calendar on the classes page and learn more about registration on our rates page.





Read more about Clearlight Gerald. She has been teaching these classes and offering private sessions since 1999. For any questions, please call or contact us.




Receive news of special events and new classes by joining the Yogaspace Newsletter. The newsletter is sent out approximately 4 times annually.



• On the resources page for pregnancy & new moms you will find an extensive list of contacts including Montreal doulas, Montreal massage therapists, Montreal breast feeding support groups, and many more.

• Visit our new West Island perinatal resource page for expectant and new Mamas on the West Island and in the Vaudreuil area.