You will find more information at: www.clearlight.ca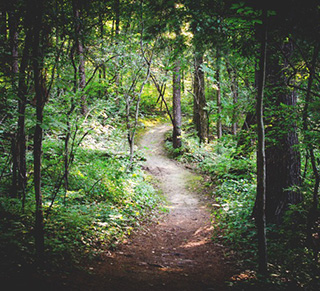 What is Fertility Yoga?
How does Fertility Yoga help?
What does Fertility Yoga entail?
Who is Fertility Yoga for?
Sessions, Location and Contact
about Clearlight Gerald
about Mika Rock

What is Fertility Yoga?
When we are consciously inviting a baby into our lives we want to try everything we can to become parents, and we want our efforts to be as effective as possible.

If pregnancy does not happen as soon as we expect, if we experience pregnancy loss, or if we have particular health or life circumstances that necessitate special care, we realize our efforts may require greater attention and we then gather resources and strategies to support our journey.

Fertility Yoga is a valuable aid in creating favourable circumstances for pregnancy. These specialized yogic practices support both natural conception, and support assisted reproductive technologies (AI, IVF, etc). Because of its recognized benefits, yoga and meditation is even integrated as a fundamental part of fertility treatments at many centers around the world.

Clearlight Gerald and Mika Rock bring fertility yoga and meditation to women and couples on this path because they have first-hand experience in knowing how effective these tools and practices are in supporting the inevitable ups and downs of this immense journey. The practices support and promote general health and reproductive health that is so important in cultivating favorable circumstances, and the approach is instrumental in reducing stress and anxiety and in improving overall wellbeing.

How does Fertility Yoga help?
Fertility Yoga is an effective and powerful way to directly reduce stress, which supports the softening of physical and emotional tension in the body and mind. Not only does the reduction of chronic stress improve our overall health but it also invites hormonal balance, and has been known to improve our receptivity to hormonal support.

The flow of circulation and vital energy to the pelvis and pelvic organs support both natural efforts—or efforts via fertility treatments—based on the understanding that where there is greater circulation of vital energy, improved wellbeing follows.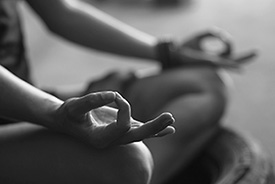 Through the applied and skillful practice of appropriate poses, along with breathing exercises and meditative techniques, it is absolutely possible to find greater ease in anticipating and preparing for conception, and waiting to learn if pregnancy has happened, and in navigating the results, regardless of the outcome.

It is common to feel isolated in this journey, particularly if you do not have a solid support network, or in situations where many friends are pregnant or already have children. Although you are not alone, (1 in 6 will experience fertility challenges), fertility yoga sessions provide you with personalized, expert support from either Clearlight or Mika. Fertility yoga and meditation will bring you the tools you need to find balance and to nourish yourself, while giving you the peace of mind you are doing what you can to create favourable circumstances.

What does Fertility Yoga entail?
Fertility Yoga is offered in a series of private meetings with each session being tailored to your own individual needs and circumstances. These sessions include dialogue, breathing exercises, gentle yoga (accessible and adaptable to all bodies), and guided meditation. You will choose to meet with either Clearlight or Mika, who will meet with you to assess your unique needs, and will provide you with specific, personalized yoga and meditation practices that will vary each week, depending where you are in your cycle (either your natural cycle or in perfect support of assisted reproductive efforts, whether IUI, IVF, etc.). In addition, each session always includes practices to directly improve your overall felt sense of wellbeing.

These sessions are designed to be complementary and in harmony with any medical support and/or fertility treatment you may be receiving. It is important to note that these sessions are not intended to be a replacement for medical care or support.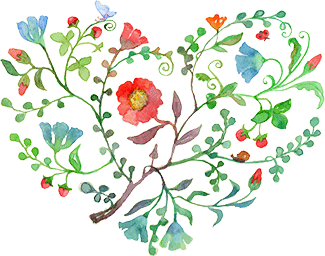 If you have not consulted a physician, and fertility issues have persisted longer than 6-12 months, we encourage you to seek out medical consultation to determine what factors may be posing a challenge to your fertility—it may be something that can be addressed quite simply. If you are currently receiving fertility treatments, fertility yoga sessions will directly support your treatment at its various stages.

Who is Fertility Yoga for?
These sessions are for women who would like to expand their 'natural' or 'facilitated' efforts to get pregnant, and who would like to create a wider context of favourable circumstances, and to be supported physically, emotionally and spiritually (in any way that feels authentic to you).

The sessions are for women who feel the negative effects of stress and who know stress is not helpful in their efforts, and who are proactive in cultivating improved physical and emotional health, balance and inner resiliency. The sessions are for women who wish to work with experts who have dedicated their lives' work to women's health via yoga and meditation. Read more about Mika and Clearlight just below.

Sessions, Location & Contact
Each session is comprised of 75 minutes of personalized practices either in your home, or at our own office/studio space, and/or online via FaceTime/Skype/etc.
The location of the sessions will depend both on your needs and our availability.

You will have the option of scheduling session by session, or of scheduling a package of 5 sessions to cover the duration of your cycle or fertility treatment. We suggest the full round of 5 weekly meetings per cycle in order to benefit from the complete program of fertility yoga and meditation, and to insure appointment availability.

Clearlight currently meets women in her NDG office, on the West Island and in the Vaudreuil/Hudson area; while Mika meets women throughout the Montreal urban area. Both women work online, and have students and clients throughout North America and beyond.

For more information, we invite you to choose to contact either Clearlight or Mika.
You can reach Mika Rock by phone at (438) 871-2002 or via Mika's email; or you can reach Clearlight by phone (514) 867-8671 or via Clearlight's email.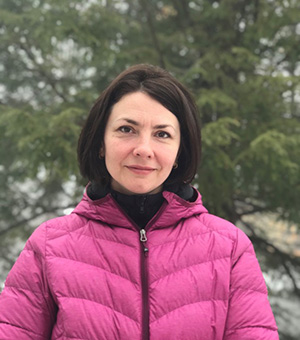 Clearlight Gerald (MA, C-IAYT, E-RYT, RPYT) is an internationally accredited professional yoga therapist, and yoga and meditation teacher, with over two decades of experience teaching and supporting hopeful, expectant and new mothers.

Working primarily in the Montreal area, she has guided thousands of women and new parents in her private sessions and group classes. She is also a senior iRest meditation teacher and an active mentor with the iRest Institute in California.

As a trained specialist in iRest Meditation and mindfulness practices, she brings her specialized knowledge into the perinatal context of fertility, pregnancy and childbirth. Her individualized sessions focus on meditation and yoga, and allow for the development of personalized strategies and practices to help reduce stress, minimize suffering and improve overall wellbeing, while also providing an opportunity for meditative inquiry and perspective, clarity and insight.

Clearlight often meets with women who, while under the care of a psychologist or psychiatrist, also seek to complement their therapeutic work by building a repertoire of mindfulness-based tools and strategies. The foundation of Clearlight's approach is the iRest Yoga Nidra program, a body-centered form of meditative inquiry developed by her longtime teacher and mentor, Dr. Richard Miller.

While supporting women as they navigate the journey of fertility, Clearlight draws from her own personal experience. Having had her own fertility challenges for over ten years, which included pregnancy loss and fertility support of IUI, and of IVF, yoga and meditation became essential for her to cope with the challenges of the journey. And she feels very fortunate to now be a happy mother of beautiful twin girls.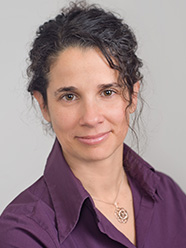 Mika Rock (ND, BEd, CYA-E-RYT) is a prenatal and postnatal yoga teacher and a birth and postpartum doula who specializes in fertility yoga.

Mika has been passionate about fertility, birth and parenting for many years. Her work in supporting individuals and families goes back to 2002 when her growing interest in supporting family's wellness led her first on the path of studying and working in education as science teacher.

As a yoga teacher she specializes in supporting a wide range of clients with various challenges related to fertility as well as teaching fertility yoga in groups, privately both in person and online sessions. Mika integrates mindfulness, yoga postures and breathing techniques following the cycle of fertility treatments addressing hormone regulation, stress level, and blood-flow issues in an effort to improve the body's overall perception of comfort.
In her Yoga practice and teaching she focuses on women's health and wellness.
She has helped support a wide range of individuals with many different challenges related to pelvic floor health, fertility issues, menstrual health, menopause, fatigue, migraines and more.

She is also a childbirth educator and a certified Shiatsu therapist, and she is a member of the Academy of Naturopaths and Naturotherapists of Canada.

Over the years Mika has gained valuable experience from all individuals she has supported and has witnessed the many benefits yoga offers in support of the fertility journey.

Mika is a mother of two wonderful children.