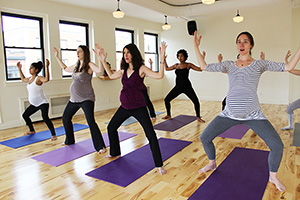 The Prenatal Yoga Immersion for Childbirth will be offered next on the following dates:

Saturday, February 23, 2019
9:30 AM - 12:30 PM
at the Pte-Claire Village location

See below for registration links

This extended class is designed for pregnant Mamas who would like to learn specific and essential yogic techniques to help navigate labour and delivery.

The proactive work of creating favorable circumstances for a positive childbirth experience is greatly aided by learning effective ways to navigate one's inner world as intense challenges arise.

In this experiential Pregnancy Yoga practice designed to relax and renew, expectant Mamas will practice breathing techniques for labour and specialized meditative coping techniques that invite the unfolding of childbirth from a place of strength, grace and confidence.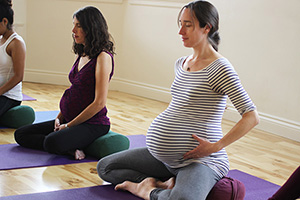 The basic toolset of coping techniques for labour and delivery that is included in the weekly classes, is presented and integrated in this 3-hour experiential workshop.

You can come to this yoga for childbirth class to supplement weekly classes, the Couples Workshop, or you may choose take this extended class on its own.

Handouts are provided.

Instructor
Clearlight Gerald, MA, C-IAYT, E-RYT, RPYT

Registration & Locations

Saturday, February 23rd, 2019: Register here with Yogaspace
The February 23rd workshop will be held at:
Om West Studio, 46 Ste-Anne, Pte-Claire Village (H9S 4P8).
Fee: $60 (plus taxes 5% GST & 9.975% QST)
(514) 867-8671

Some Reflections from Past Classes & Workshops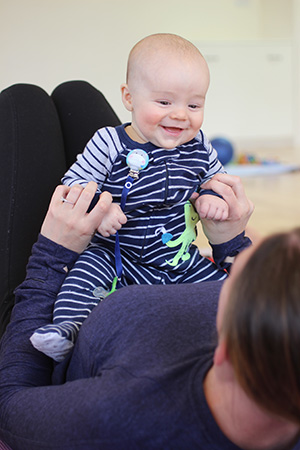 You provided me with so many beautiful and useful tools to have the labour and delivery I always wanted to have. During labour, I thought of you and tried to hear the calmness of your soothing voice to keep me going – it worked. I know that I was able to do what I did because of your classes. You're a wonderful yoga instructor, teacher, motivator and person.
- Giovanna D.

I wanted to thank you for such great labor preparation! It was all natural and without epidural which they told me is rare for first babies - the prep work definitely helped!!
- Judith M.

I want to thank you for the wonderful tools I gained from your classes. I really credit the breathing and vocal toning techniques with getting me through those last hard hours of labor without intervention. Thanks again!
-Rebekah L.

I'm so happy to share the news of my baby girl's birth! My husband, Ryan, and I rushed to hospital last Tuesday morning just in time for her delivery. We arrived at 6:45am and she was in my arms at 7:12am! It was such an intense experience, but I kept thinking back to our classes and rather than "overcoming pain" I tried to "embrace intensity" and it worked! With much low groaning and focused breathing (and hand-holding from hubby), we had our healthy girl in, literally, no time at all. When all was calm, one of the nurses asked Ryan if I was a yoga instructor!
I'm so thankful for the support and advice I received from you during the pregnancy. We look forward to joining you for Mom & Baby Yoga. Thank you, thank you, thank you!
- Christie

"The best prenatal course we took in preparation for our little one's arrival! Not only was it informative but also relaxing, allowing us one more day to connect as partners in body, mind and spirit before we become a family of three!"
- Jonathan Stein & Cara Webb

"Clearlight is wonderful, her knowledge embodied, her teaching generous and practical. The information she provides is not at all redundant with the resources the health system provides and I am grateful for what I learned. It has given me a sense of empowerment in my pregnancy that I shall carry like an amulet regardless of how and where the birth unfolds."
- Marie Claire

"Thanks to the toolbox you provided us during your workshop, I was able to cope with the pain while my husband did a fantastic job coaching me and helping me through each contraction. I welcomed each contraction, knowing that the wave would pass and that with each one, we would be closer to meeting our little baby. I am happy to say that after nearly 20 hours of intense contractions and 1 hour of pushing, our little girl, Abigail was born via a successful, completely natural, VBAC!!

We very much appreciate all you taught us during your workshop and the insight you provided us. I don't know how I would have been able to cope (naturally) during the labour process had we not taken your workshop. The medical staff at the hospital were quite impressed with me, as I was still happily smiling at 8cm dilated, unmedicated!"
- Erika & Mark

"We have participated in this workshop during both our pregnancies and recommend it to everyone we speak to. There is nothing stiff or traditional about this course and that is something that my husband and I have sincerely appreciated both times we joined the workshop. I'd like to specify that I didn't choose the words "attend the workshop" because this workshop is really about interacting, feeling right at home, and PARTICIPATING (not simply "attending and listening").
My husband and I have a close relationship to begin with, and we felt even more connected after the workshop...connected to one another, to our baby, to the human side of life by forgetting all the stuff going on in the outside world. We both felt empowered and confident that we have the tools and knowledge to work through the labour as a team and bring our child into the world with love. Clearlight's teachings are so insightful and refreshing. Her explanations are clear and her anecdotes are relatable and oftentimes funny. I love that we can laugh out loud as comfortably as though we were in our own living room! Her tone is calming, and even when she explains topics that seem out of the ordinary, they are approached with a sense of humour and realness. We really feel like no other book, website, or course is as comprehensive or successful in approaching the subject of childbirth in a way that brings the couple together."
-Diane & Steven

"I want to thank you for the enriching and valuable workshop that you offer couples like us. Although you covered many topics and techniques, the only thing I could remember while in labour was how to breathe. It helped me stay calm, open up, work with the contractions. You also gave my husband tools to work with that gave him a certain confidence during this new and intense experience. I am happy to say that the experience was wonderful and turned out better than ever imagined!"
- Angela Papadakis
Read Angela's birth story.

"It was our best prenatal class by far. We spent some very good quality time together that day and keep it in good memory. We had a wonderful birth, very much thanks to your course, which I highly recommend to everybody. I didn't need to use any drugs and had a very positive experience. Thank you!"
- Lisa Bendixen and Marc Fortugno

"My little one; Matias was born on January 14th. It was a total of 6 hours of labour and about 15 minutes of pushing. My goal with this second pregnancy was to have a natural birth, since with my first I was induced and got an epidural. Thanks to all the techniques and discussions that we saw/had in your classes and workshop, I was able to accomplish a natural birth. It felt really really great and the nurses and doctors were impressed with me.

From the very moment we stepped into the hospital, Amar was an amazing coach. He kept reminding me to breathe (he would even breathe along with me) and he would suggest different positions and massage my hands. The thing that helped me the most, was the thought of appreciating the pain because it was there to bring me my baby (I had the pain over for tea! Haha). Thank you so much for all the knowledge Clearlight!"
- Amanda E.

"I honestly can't wait for the upcoming workshop. It helped me tremendously the last time, and it will be such a perfect timing for me, 3 weeks before my due date, to really get in touch with that part of myself that just knows what to do... And let it take over when the time comes.
Thank you so much for your work, you really have a very positive impact on many lives, many families."
- Ariane N.

"I wanted to thank you for such great labor preparation! Our baby boy Fjor initiated proceedings just ahead of when they would have induced me (9 days after the due date) on April 5th and arrived at 1:35am on April 6th, 2016. He was 3.52kg and a very long 55cm. It was all natural and without epidural which they told me is rare for first babies - the prep work definitely helped!! And I wouldn't have managed without Jacomo's support & touches he learnt in your class."
- Judith M.

"The workshop helped me and my partner to reconnect on a different level. We left the workshop feeling like a team. We now feel ready for the 'big day.' No matter how it unfolds, we know we will work through it together."
- Genevieve Martel & Chad Barrington
Read Gen's birth story.

"I want to thank you for the workshop, it helped a lot. I was so focused during my labor that the nurse and doctors were very impressed to see me so calm. I did not have an epidural, no time for that! I will take the same session again if I have another baby."
- Liette L.

"The workshop was a great opportunity for us to take time together and be centered on the pregnancy. Since we want to try a vaginal birth after caesarian, it's important for us to be well prepared physically and mentally. We feel now that we are on the same wave length about birth experience."
- Solène & Yvan
Read Solène's birth story.

"We cannot imagine a better birthing coach than Clearlight. She understands that every birth is unique, and introduces you to tools for meeting every challenge. We also very much appreciated her inclusive attitude reflected in communication (husbands or partners, acknowledging individual differences in couples like us with twins or our neighbor for whom it was a second birth)."
- Gail Schwartz and Lucie Gagnon

"We absolutely loved the workshop. Neither of us are really into yoga, so we weren't sure what to expect or whether we'd think it was too 'strange' for us, but were delightfully surprised by how much we liked it. Clearlight, we especially liked your style. On the ride home, Jeff kept saying, "she was amazing". You managed to be intense and yet relaxed, goofy and yet serious. I will recommend this class to all of my friends and I hope to come back for the mom and baby yoga, too!"
- Elena and Jeff

"I feel more confident and less afraid about the birthing experience. I really loved the way you welcomed and included the fathers. We also really appreciated your open, non-judgemental attitude about all types of birthing experiences, while painting the whole thing in a positive light."
- Kathy and Gordon

"Un atelier très informatif, qui rend la mère et le père plus confiants face au travail de l'accouchement. Le tout se déroule dans une douce atmosphère qui favorise le contact entre les partenaires du couple. C'est une occasion privilégiée pour réfléchir, en couple, à la naissance que l'on souhaite pour notre enfant."
- Julie Ouellet et Clovis Gouaillier

"As a healthcare professional, I enjoyed the non-medical emphasis of the workshop. The value of the medical model and medical technology was not diminished. Yet, alternatives to mainstream practices were offered that were more patient-focused. It was also helpful that Clearlight validated some of the things I'd already taught my husband."
- Jennifer & Darren Huskisson

While parents certainly must be prepared for the unexpected, the "Preparing for Childbirth" workshop brings Mom and Dad closer together by strengthening their knowledge and, albeit indirectly, shaping the 'expectations' scene at the time of birth. Subsequently taking away many anxieties around this wonderful and unique event."
- Nat and Fil

"We loved this class – it was the first opportunity for my husband and I to really stop and connect with one another, let the wonder of what we were about to experience take hold and settle in and around us. Clearlight not only shared a great deal of helpful technical information, but led us through the physical steps, positions, etc. to consider during the birth. Highly recommended!"
- Winona & Patrick McCarthy

"Spending just a few hours bonding with my husband, and discussing with likeminded people at the same point in their pregnancy, alleviated stress and made me feel more excited and less anxious about the birth process and labour. The best part was for Mike and I to feel connected and it reminded me that I am not in this alone."
- Nicole Lévesque

"We so enjoyed the workshop and the opportunity to tune out the world and focus on us and bringing this baby into our family. We really appreciated the practical elements of the workshop such as breathing techniques and comfort measures for labour. But we were pleasantly surprised by the unexpected and deep reconnection we felt over the course of the afternoon."
- K & D

"Both Stéphane and I were very impressed with the workshop. It was designed to make daddies feel special and to better understand their role during labor. Par une approche humaine et une ambiance calme, Clearlight enseigne aux couples des techniques de respiration qui les aideront durant durant le travail et la naissance de bébé."
- Nicole Bertrand and Stéphane Bédard

"At first, my husband was somewhat reluctant to attend this workshop because he thought there would not be any other partners present. However, when all was said and done, we both thought the setting was very relaxing and inviting for couples and there was noticeable effort put in to make all partners feel at ease. The subjects that were covered were very helpful for both mommies and daddies, and the hand-out is especially useful because it's a clear summary of what was discussed at the workshop and an excellent tool to refer to prior to the delivery. We both feel more at ease, more prepared and comfortable with the delivery process. My husband and I thoroughly enjoyed every aspect of this workshop!"
- Tania and Enzo

"The content of the workshop was well presented in a comfortable atmosphere. We both felt that the material was helpful and the manner that it was presented made us feel at ease.
Clearlight's Couple's Workshop gave us reassurance before the birth that we have what it takes to deal with labour and delivery together. The breath and movement techniques are very empowering.
- Genevieve Cloutier & Iain Ingram

"We think it is a must for all couples. The material was be very helpful especially for my husband. I will have complete confidence in him when the time comes to assist."
- Karen Teolis & Pierre Ricard

"Both myself and my partner enjoyed this workshop very much. It provided plenty of useful information, a relaxed and non-threatening atmosphere, and a chance to talk with other couples and ask questions. We highly recommend this workshop to any couple, especially if you did not have a chance to take prenatal yoga classes with Clearlight."
- Sasha & Alex

"This workshop definitely eased whatever fear I had about dealing with the pain."
- Nathalie Vierra & Vincent Romero

"I was not a quiet laboring woman, but the breath, sound breath, and hot water got me through 20 hours of labor without pain medication, which is what I had hoped for."
- Jessica L.

"Even for people who might be more reserved or conventional, this workshop presented less conventional ideas and options in a way that was very accessible and applicable/modifiable to suit different personal styles.
- Monica & Richard Preuss

"A must for anyone going through the birth experience. We learned a lot even though this will be baby #2!"
- Leanna & Jean-Marc

"This workshop has been an important step in our preparation for a (hopefully) natural birth and in our coming closer together as a couple."
- Siham Barakat & Jean-Mathieu Potvin

"Les positions de travail et d'accouchement nous ont été bien expliqées pour qu'on puisse bien saisir leurs utilités. Ça été très rassurant pour nous 2 et nous aborderons le travail avec plus de confiance et plus d'outils pour répondre à nos besoins.
- Genevieve Fagnon et Benoît Poirier

"I'm thankful I took this workshop - it gave me and my husband the chance to connect and share while learning valuable material. The massage, positions and breathing will help us both through childbirth."
- Kirsten Bjorn

"The approach to childbirth in this workshop is simply wonderful."
- Etienne Bergeron

"I have learnt not to be so shy in trying to help my wife with the delivery of our first child - thank you!"
- M. Grigat

"I loved the emphasis on the importance of the husband/partner in the labour process. The best part of the workshop was coming out with concrete ways he could help prepare and support me in labour and birth. My husband especially appreciated the effort made to make the men/non-yoga participants feel comfortable. He loved the massage section, and liked knowing there were things he could do to help me and be more than a by-stander."
- Krystyne Blaikie

"This workshop really made us feel more prepared for childbirth, and gave us the confidence we needed. Thank you!"
- Nadia Sourial and Jimmy Vienneau

"This workshop really helped establish the partner's role in a hands-on, practical way. It was also a great bonding time. Clearlight is very welcoming and knowledgeable."
- Krystyna and Nitai

"Clearlight est fantastique! Elle sait nous rassurer sans pour autant nous cacher les risques ou 'challenges' qui peuvent survenir pendant le travail."
- Karenne LaFleur et Danny Levesque

"We greatly appreciate all you have given us. This will definitely give us a different, positive and loving experience. Thank you."
- Terry and Marco Crivello

"We get so caught up in our day-to-day living, caring for our 4 year-old son, working on our house (renos), preparing or nesting for our new babe, that I feel as though we (Devin and I) hadn't really connected together with the child growing inside me. The workshop allowed us the time and space away from home to do that."
- Christy Thompson and Devin Scott

"Thank you for providing a source of peace and strength."
- Nada Lisi & Ioannis Doufexis

"Very effective presentation of tools for labour. I very much appreciated the opportunity for my husband to learn about breathing techniques and ways to assist me in the delivery of our child. I have a sense, now, that we can be on the same page - we will no longer be deer caught in the headlights!!"
- Jaime Kirnan and Sam Grainger

"Great teacher, loving group and people. A very well invested time, and I am leaving extremely relaxed. Thanks a lot."
- Fabien and Silvina

The couples workshop is a great way to prepare physically and emotionally for labour and bond with your partner in preparation for your new bundle of joy. Highly recommended!
-Ilana and Perry

"Very professional, excellent set-up, very clear presentation of the information."
- Jennifer Banton

"An excellent workshop, promoting the unity and the harmony of a couple through the experience of pregnancy."
- Sarah Shea

"The workshop was comfortable, comforting and made me feel more secure in my up-coming job."
- Al Gurhan

"We are very glad we took this class, as it gave us a chance to connect with ways to handle/experience labour and childbirth as a couple."
- Kristin & Anthony

"It was very open and inviting, not intimidating - especially for the partners! Thank you, we'll be thinking of you during labour!"
- Julie & Mike

"Being a first-time mom and being totally green to the whole birth experience, I found this workshop very informative and expansive. Thank you!"
- Ilaini Scholl

"This is a great opportunity to bond with partner and baby during a very busy time. Great for partners who don't have the time to read up and learn about what their wives are going through and how they can help them. Shows them how to be effective in thier 'helping' intentions."
- Michelle Van Houtte

"It was a beautiful occasion for us as a couple to share breathing, warmth, strength and peace to better prepare for the arrival of our child into this world."
- Rachel

"This workshop is a relaxing, calming preparation for childbirth that gives techniques of breathing and useful positions. It intesified the bonding of myself with my husband and baby."
- Sue Zinck

"All the information is very solidly based and all the links are made obvious which made it more easy to share with my partner. The balance between practice and theory was excellent."
- Robert & Christine

"This workshop was really great because my partner got to experience what we do in pregnancy yoga and put it to use. We really appreciated Clearlight's open attitude - it wasn't too 'zen-yoga' so not so scary! Everyone can find something to use in the workshop."
- Gilbert & Philippa

"Great experience. It definitely complements the whole 'intellectual' learning process to giving birth we went through. We feel we are now equipped with the right tools to giving birth and becoming parents."
- Mathieu Robitaille

"Thoroughly enjoyed the workshop. It was refreshing to attend a workshop in which the father is included and in which the focus is on birth and the couple."
- David & Barbara Vyncke-Wilson

"The workshop is lots of fun, and a perfect occasion to get four and half hours of undivided attention for both of you - some quality time away from the usual hectic lifestyle preceeding the arrival of baby. Thank you Clearlight, the workshop is amazing and a brilliant idea."
- Christina & Mounir Bashour

"Excellent for the body, mind and soul of expecting mothers and their other half, not forgetting the baby!"
- Fanny Héraud & Nicolas Rudloff

"The partner's participation is fundamental, I learned how to help during the birth. This workshop enables us both to not only learn essential material, but also to deepen our connection."
- Emerson & Luciana




• Yoga Fundamentals: Alignment Principles for a Safe Practice
• Special Sadhana Intensives